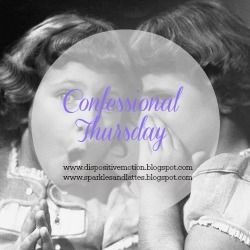 1.
I somehow missed the Joanna Gaines memo... I've never seen the show Fixer Upper, have no desire to go to Magnolia Market, and I wouldn't be able to pick out the below couple if I was in line with them at the airport. They look nice enough, but I feel it's way too late to jump on the Magnolia bandwagon now!


2.
If I bump my head really hard on a cabinet or while playing with Parker, I irrationally fear a concussion. To check my mental acuity, I silently review multiplication facts. Once I get to seven times seven, I assure myself that I'm okay. Yes, I realize this is ridiculous.
3.
I didn't love
Talking as Fast as I Can
. I was twelve kinds of excited to score it at the library, but I had some issues with it: the writing was a bit scattered, it was
very
surface level and went into zero depth on tons of topics, and it was labeled
Gilmore Girls to Gilmore Girls
, yet actually covers Graham's early life, too. Speaking of
Gilmore Girls
, I wanted much more on this topic! I feel like Graham could have written an entire novel solely on
GG
's early years, and while she did devote a chapter to early
GG
and one also to the reboot, it wasn't enough for me (though I thoroughly enjoyed her thoughts on the early
Gilmore Girls
series - so much has changed and Graham's words were humorously golden!). She did point out at the end that the reboot ended with a "cliffhanger" and I'm hoping that means there are more episodes to come!
4.
If I'm out driving and find myself stuck behind a car that's moving like molasses, I internally recite these magic words from The Devil Wears Prada: By all means, move at a glacial pace. You know how that thrills me. It makes me laugh instead of getting cross :)