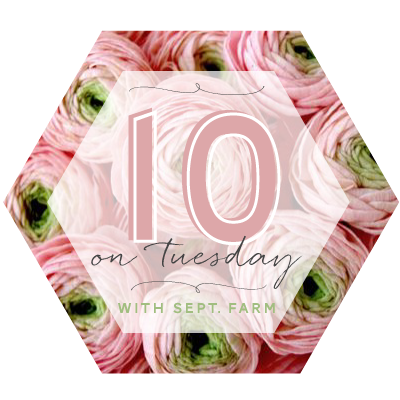 I'm linking up once again for 10 on Tuesday! This week, I'm back with my favorite beauty finds...
1.
Benefit BADgal Mascara
Over the years I've tried lots of different mascaras, but for maybe the last ten years, this has been my favorite. Every once in a while I'll still purchase a drugstore brand just to see if I can get by with something less pricey - but every single time I come back to this one. It's straightforward and simple (no fancy "curling" or "lash building" going on), but the application is always flawless and it's just a solid product.
2.
L'Oreal Felt Tip Eyeliner
Much the opposite from my mascara, this
is
a drugstore find. I stock up on these babies whenever I'm at Target, fearing the day the might stop making them. The felt tip provides
the best
application. If you're a liquid liner fan (or even if you're not) I would definitely say to give it a try!
3.
Bb prêt-à-powder
I was introduced to this magical powder over a year ago at the local blow-dry bar. I was told it was amazing, but being a fan of spray-on dry shampoo, I was skeptical. Y'all, I'm so glad I took the advice and purchased a bottle. It's actually a dry shampoo/style extender/volumizer, and it's genius. Plus, the best part, it's never ending. It's like the five loaves of bread and two fish that fed 5,000 people in biblical times - I've been using the same container, pretty much every other day,
for over a year
. And there's always more. How is this even possible? The spray cans would last me maybe a month, so this has been quite the surprise.
4.
Jan Marini Daily Face Protectant
A few years ago after a facial in Scottsdale, my aesthetician applied this tinted moisturizer with SPF on my face to help with the desert sun. I went home and immediately ordered more. In Arizona, I got into the habit of applying SPF every single day, and it's carried on even though we are in the rainy south. I love that it's tinted for days when I'm not wearing much (or any) makeup, and it gives off a bit of a glow (I feel making me look much more rested than I actually am, ha!).
5.
essie apricot cuticle oil
Essie is my favorite nail polish, but I also am a devout user of their cuticle oil. I can count on my one hand the number of salon manicures I've had since Parker came around, so this oil really helps keep my nail beds from, well, from looking like I can count the number of salon manicures I've had in the past three years. Just apply and massage in whenever!
6.
Benefit Posie Tint
This liquid is a lip and cheek stain, and I just love the flush of color it gives! I've been a fan since my bachelorette days in California's Bay Area when I could walk to the Benefit store in downtown Los Gatos and enjoyed buying all their new products (it's probably best for my marriage that I'm no longer walking distance to one, ha!).
7.
Yves Saint Laurent Touche Éclat
Anyone with a baby (or toddler) needs this for under their eyes. (Unless, you have a baby and/or toddler and you are getting the requisite number of hours of sleep each night, and in that case I want to meet you.)
8.
NARS lipgloss
This is my absolute favorite! I love the (lack of) flavor, the applicator, the cute packaging - everything! I don't mind splurging on a good lipgloss either because I feel like I use it several times a day (until it's completely gone!).
First off, how adorable is the name for this shampoo? It's a clarifying shampoo, so it's recommended to be used once a week (on Sunday, no? So clever.). My hair stylist recommended it and I use it religiously once a week now (usually on Sundays because #rulefollower).
I think this is the number one health/beauty tip I've ever received. Water helps everything. It was my mother's go-to advice for anything we came up with growing up. Headache? Drink some water. Tired? Drink some water. Hiccups? Drink some water. Water is supposed to help everything from skin to digestion. The cute tumbler just makes it easier and more fun.
What are your favorite beauty finds??